History
A church was certainly in existence in 1188, but the name Eccleston, from the Celtic 'Elgea' implies a very early British settlement within an organised Christian worship. A late 18th century print exists of a dilapidated Church which obviously dates back to the 14th century. This was replaced in 1809 by one of similar size, and the south wall of the nave remains in the old Churchyard.
The present building is the third church to have been built. It is said that Hugh Lupus Grosvenor, 1st Duke of Westminster, approached one of the leading architects in the land, G.F. Bodley, and asked him to build a Cathedral at Eccleston. On being told that one already existed a few miles away at Chester, he replied 'then build me a small one'. Whether or not the story is true, a splendid Church in early English style was built of local sandstone.
There can be few examples in the country of a Church which has remained virtually unchanged since the architect designed and built it a century ago. Almost everything, including the furnishings and fittings by Watts of Baker Street, London, are as they were when the Church was consecrated on Ascension Day, 1900.
The stained glass throughout the Church is the work of Burlison and Grylls. In the North aisle the windows portray the Prophets, Priests, Kings and Martyrs of the faith; whilst in the South aisle they depict the Saints and symbols of the four nations of the United Kingdom. In the clerestory a 'Chorus Angolorum' holds a continuous scroll inscribed with the Magnificat beneath them. The coats of arms remember families connected with the Grosvenors.
There are 3 distinct tours. The memorials, the lower level windows, and the upper level windows (clerestory). It is recommended to start with the memorials, then the lower level windows, then complete the tour with the clerestory windows.
Memorials
1 – Rectors Board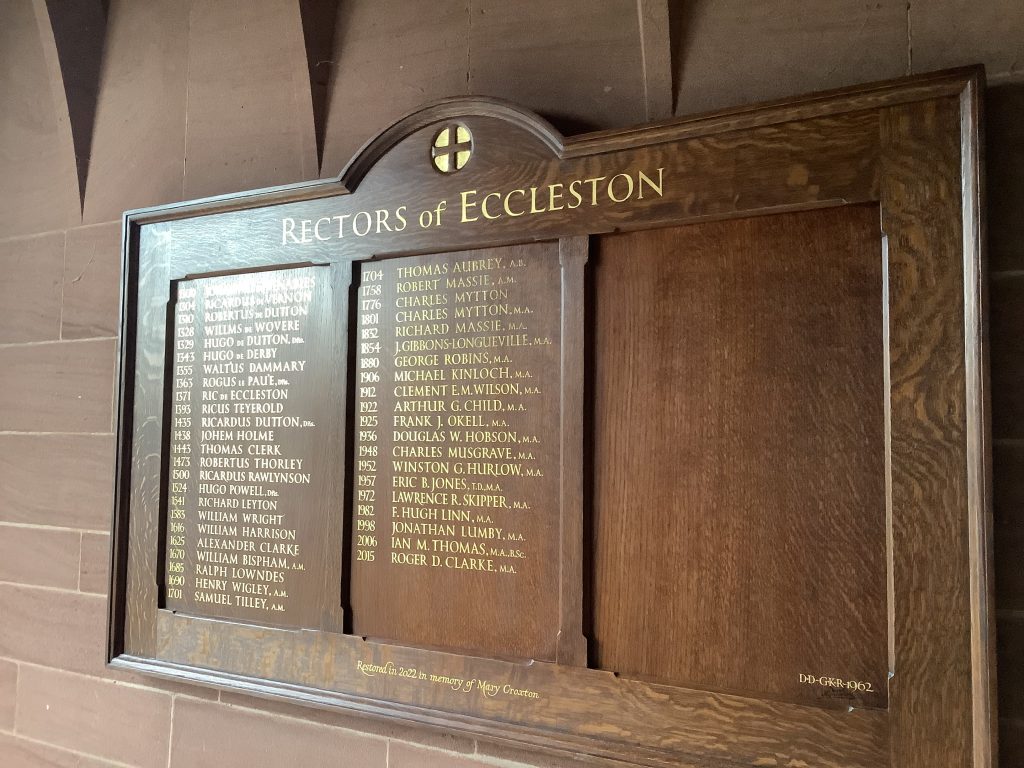 2 – Memorial Board to Hugh Lupus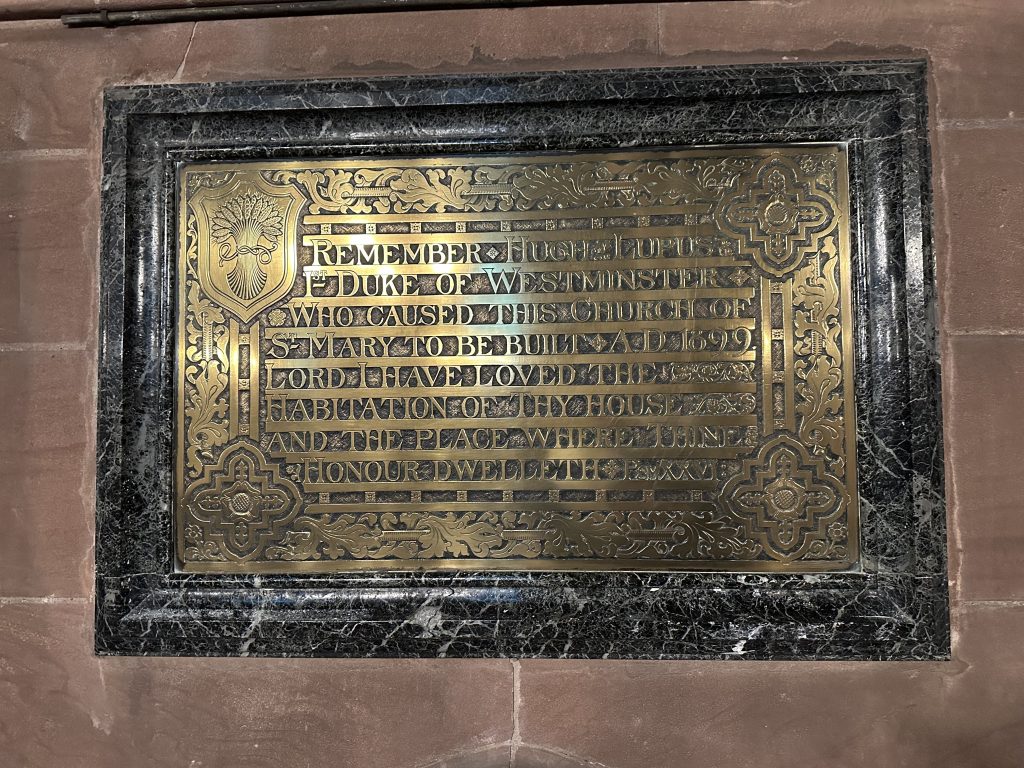 3 – Church Wardens Board
4 – WW1 Memorial
5 – WW2 Memorial
6 – Grosvenor Chapel (Memorial Board to 5th Duke)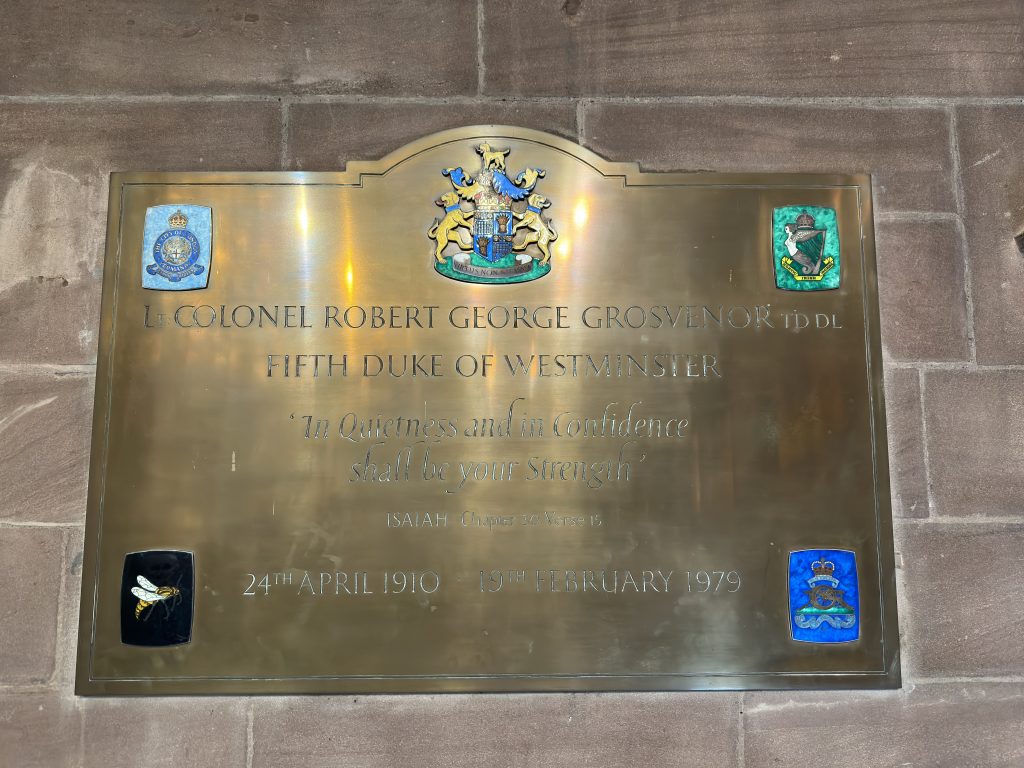 7 – Memorial Board to 4th Duke
The memorial to Gerald, Fourth Duke, was designed by his brother, Robert.
8 – Memorial Board to 6th Duke
9 – Memorial to 2nd Duke (Bend Or)
This bronze bust is by Gilbert Ledward.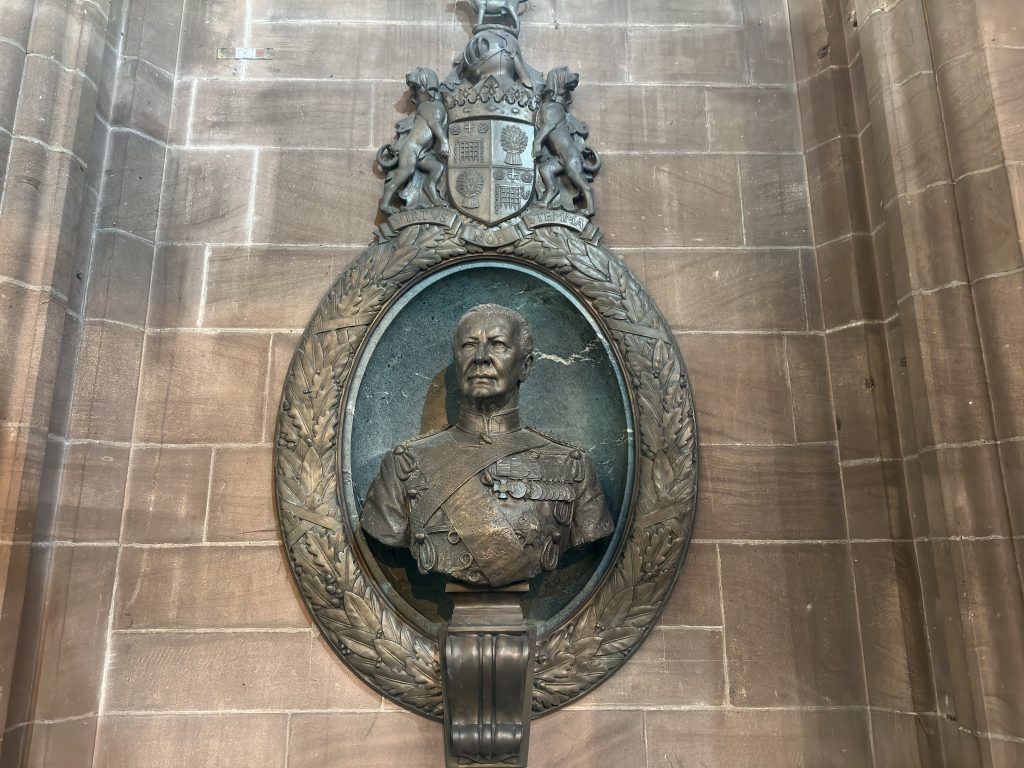 10 – Memorial to Captain Hugh Grosvenor
This fine bronze relief is a memorial to Captain Hugh William Grosvenor, the great grandfather of the present Duke.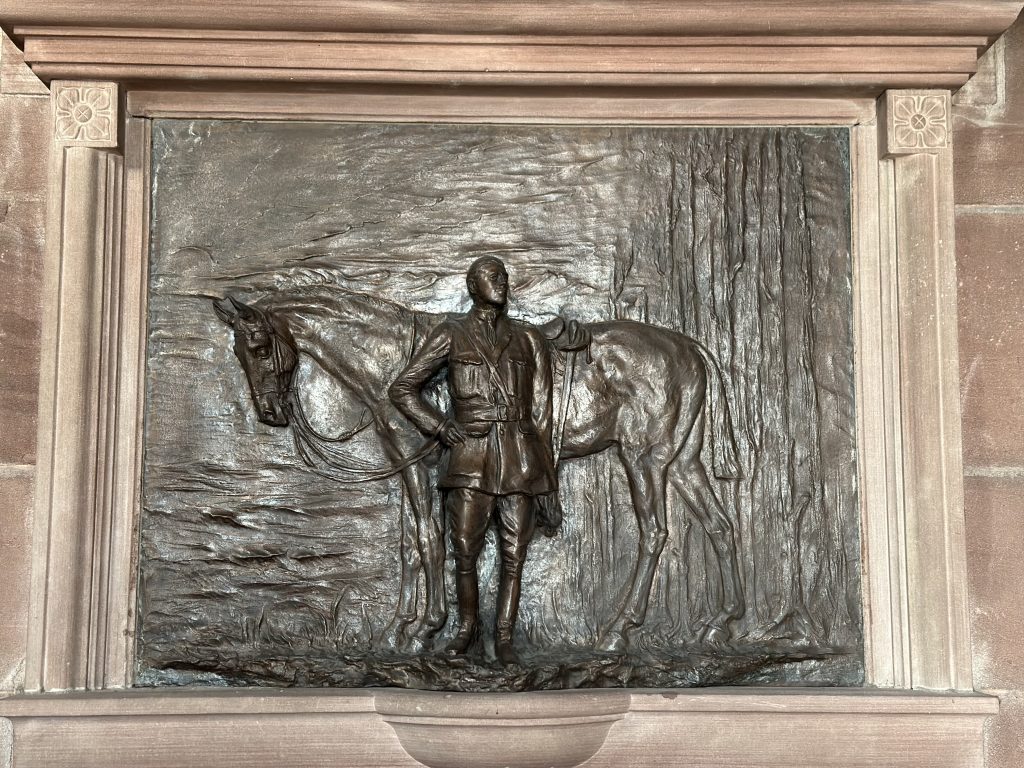 11 – Tomb of the First Duke
The tomb and canopy of the First Duke, carved in alabaster was designed by G.F. Bodley.
12 – Sanctuary Lamp
13 – Alfred Robinson Memorial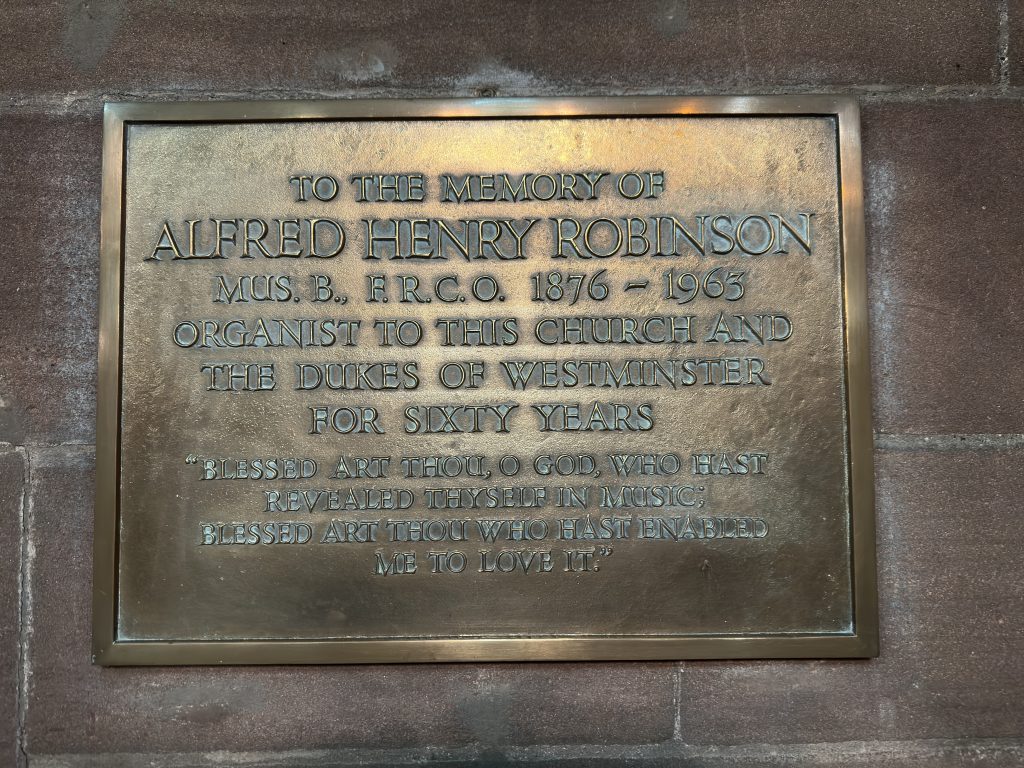 14 – Grosvenor Family Memorial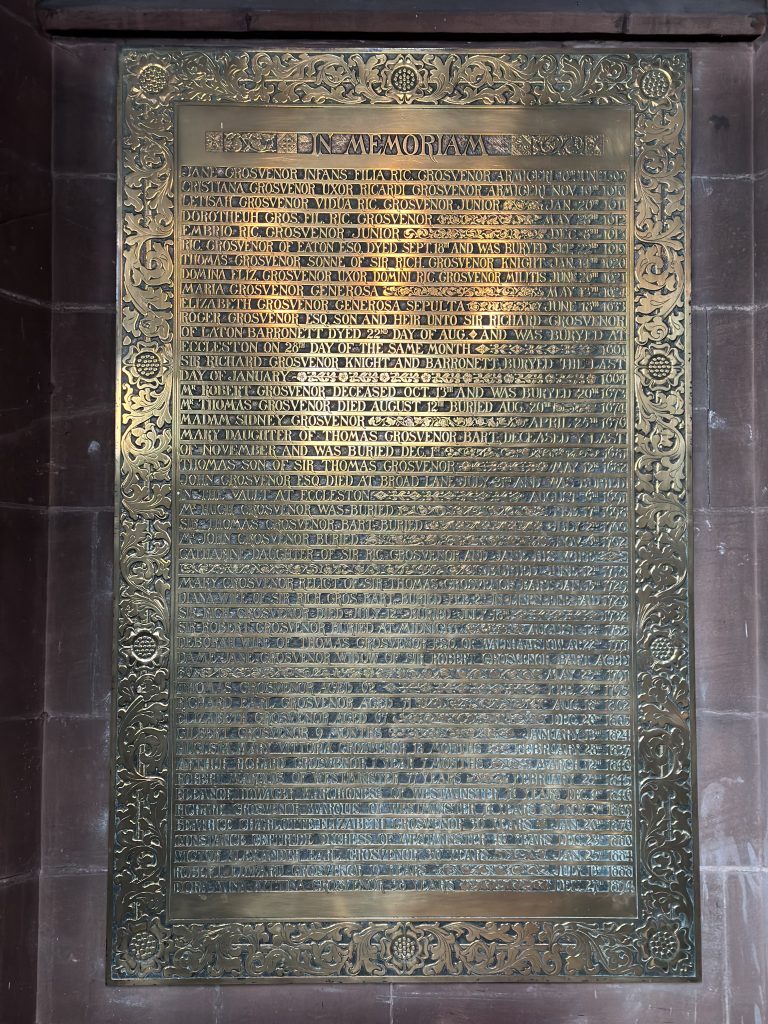 15 Memorial to Lt. Colonel David Scotland
16 Memorial to Richard Grosvenor
17 Memorial from previous Eccleston Church (Table of Benefactors from 1718)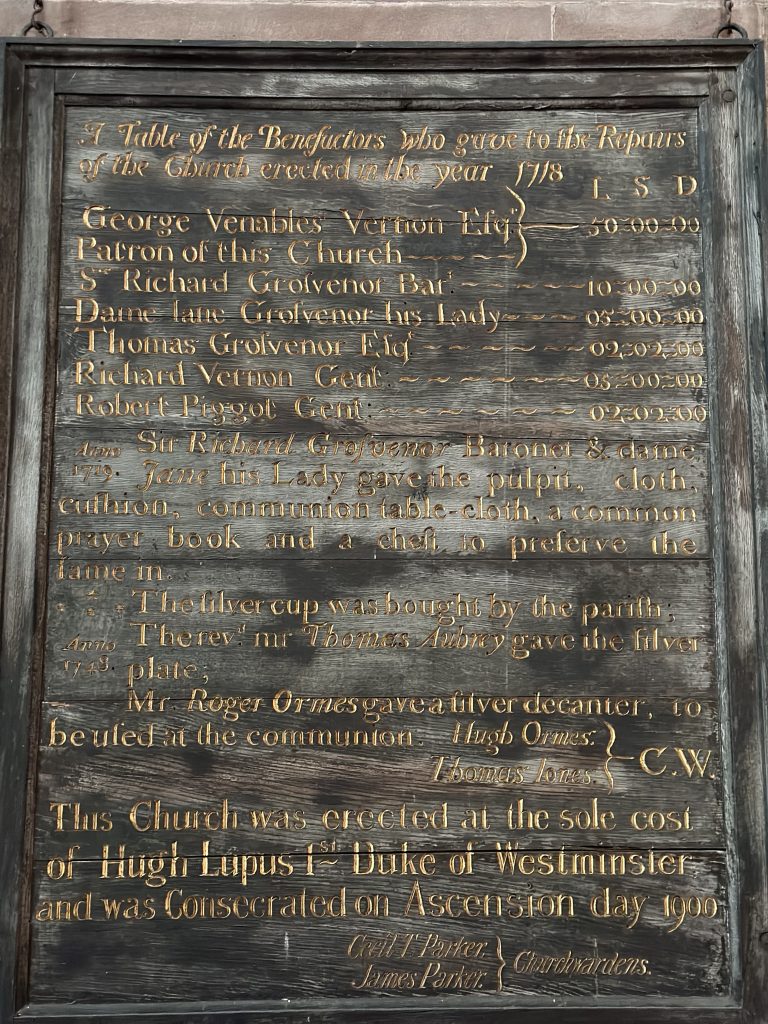 18 Memorial to Robin Haddock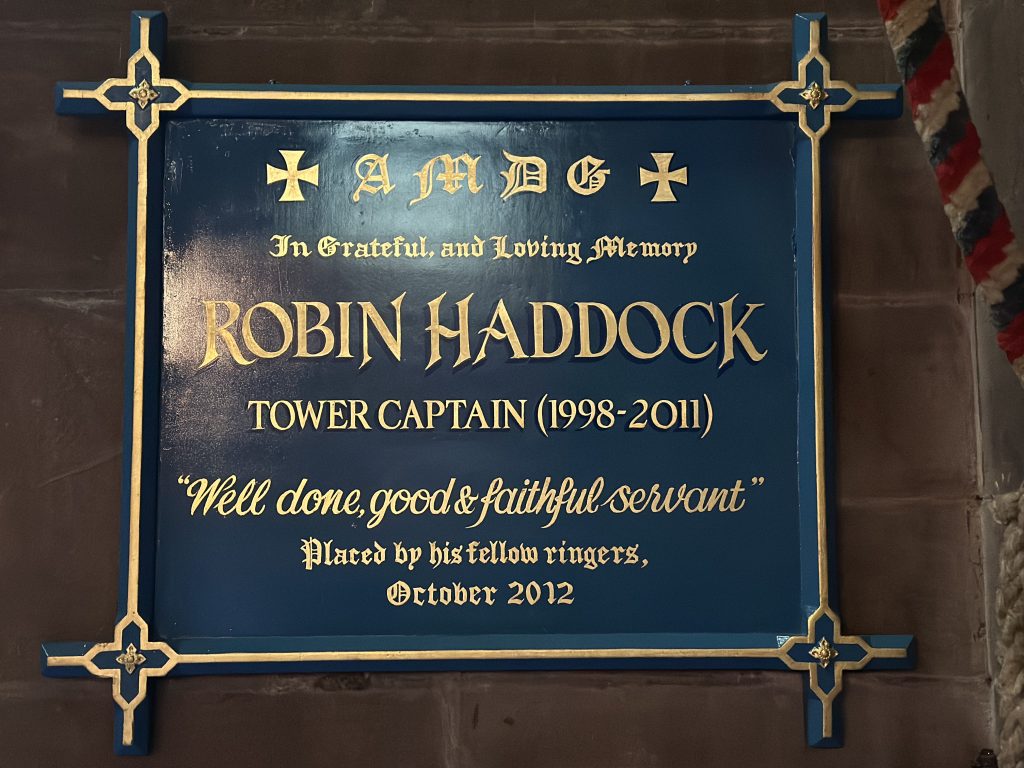 19 Memorial to Henry Walter Wilde
20 Memorial to Anne Duchess of Westminster Nancy
21 Memorial to Dora Erskine Wemyss
Lower Windows
1 – Window (The Gate of Heaven)
"I have built an house of habitation for Thee, and a place for Thy dwelling forever. This is none other but the house of God and this is the gate of Heaven".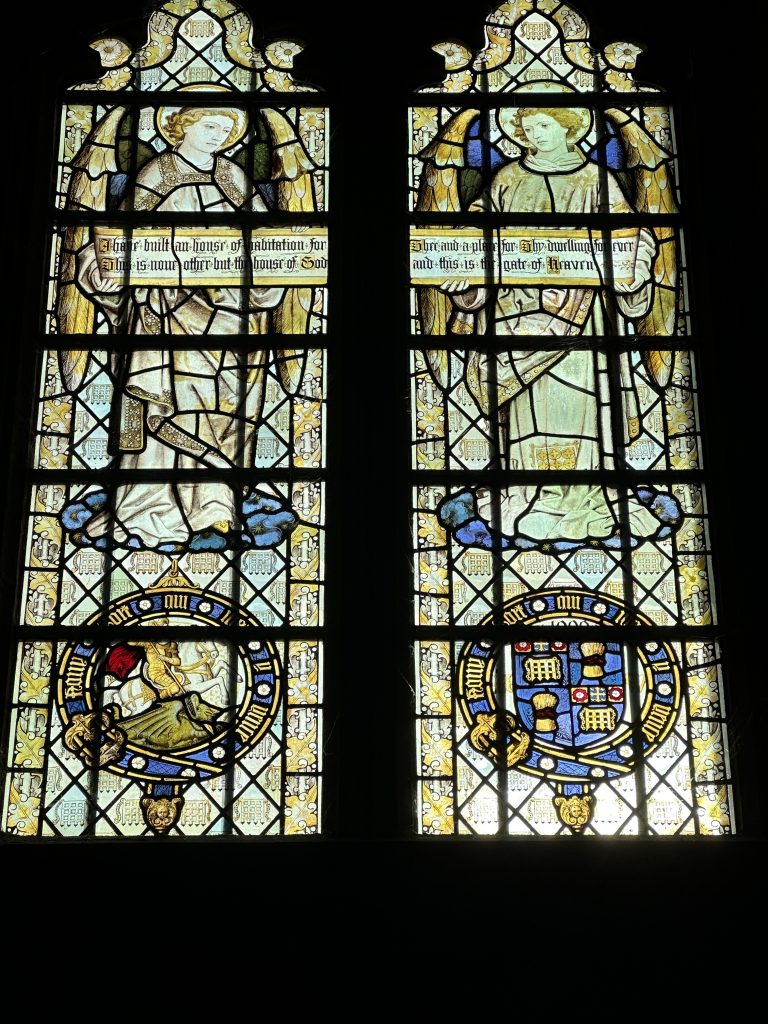 2 – Window (St Daniel, St David and St Dubritius)
This window shows Saint Daniel, Saint David and Saint Dubritius.
3 – Window (St Kentigern, St Andreas and St Columba)
This window shows Saint Kentigern, Saint Andreas and Saint Columba.
4 – Window (St Finian, St Patrick and St Brandon)
This window shows St. Finian, St Patrick, and St. Brandon
5 – Window (St Augustine, St George and St Ceadda)
This window shows St Augustine, St George and St. Ceadda (?)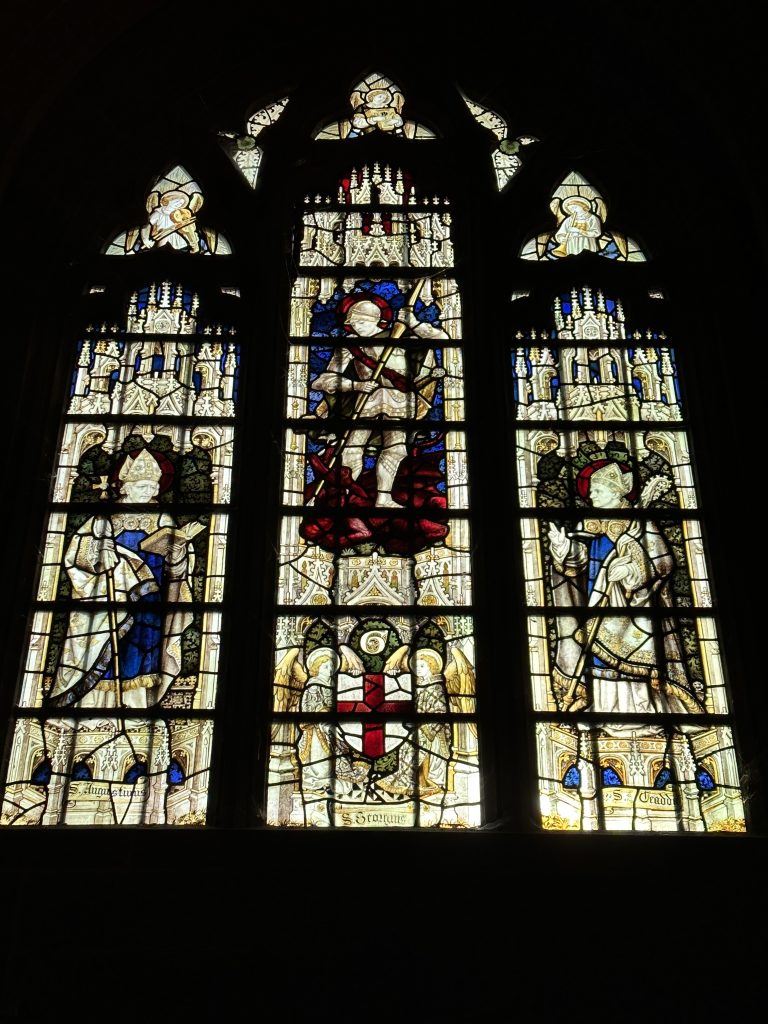 6 – Window (The 4 apostles)
This window depicts the 4 apostles, St Matthew, St Mark, St Luke and St John.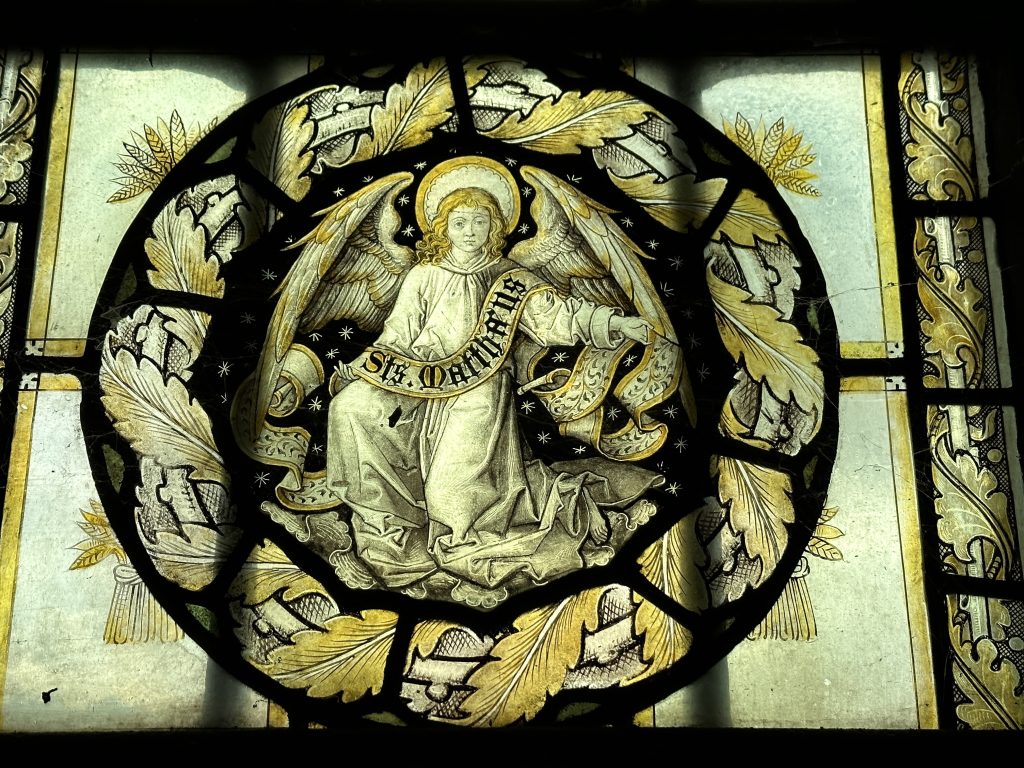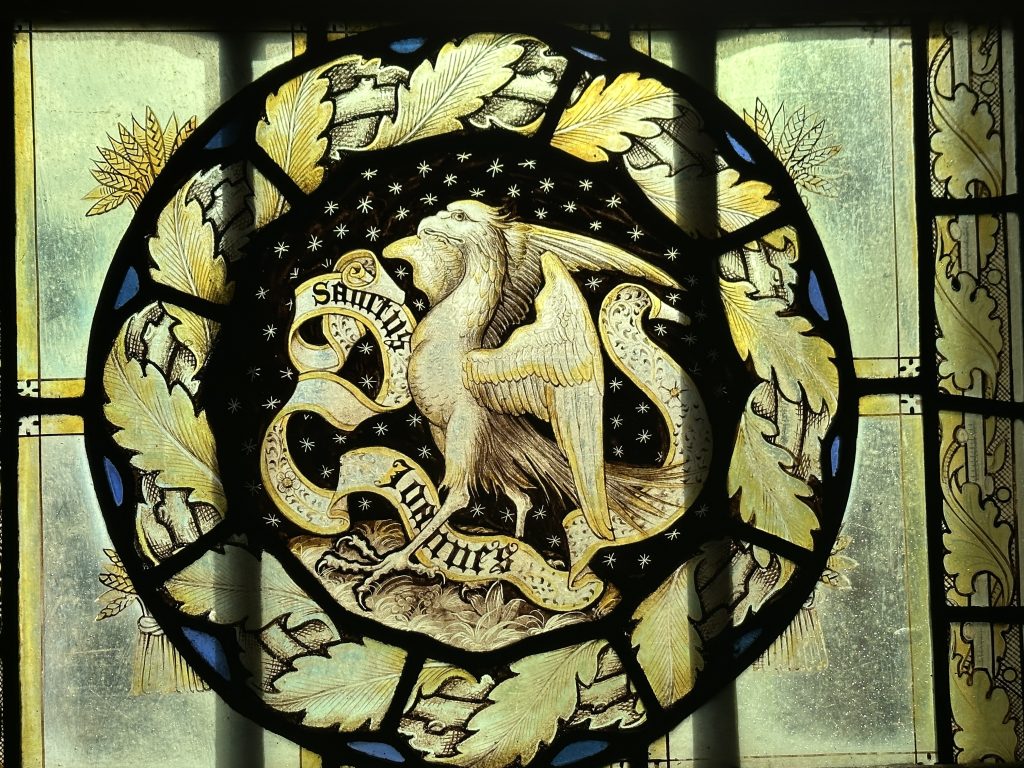 7 – Window (Grosvenor Chapel East Window)
This window above the Lady Chapel/Grosvenor Chapel shows St Luke and St John. Beneath St Luke is the phrase from Luke 24:53
"et erant semper in templo laudantes et benedicentes Deum Amen", which translates as "And were continually in the temple, praising and blessing God".
Beneath the image of St John:
"In principio erat Verbum". These are the first words in the Gospel of St John, "In the beginning was the word".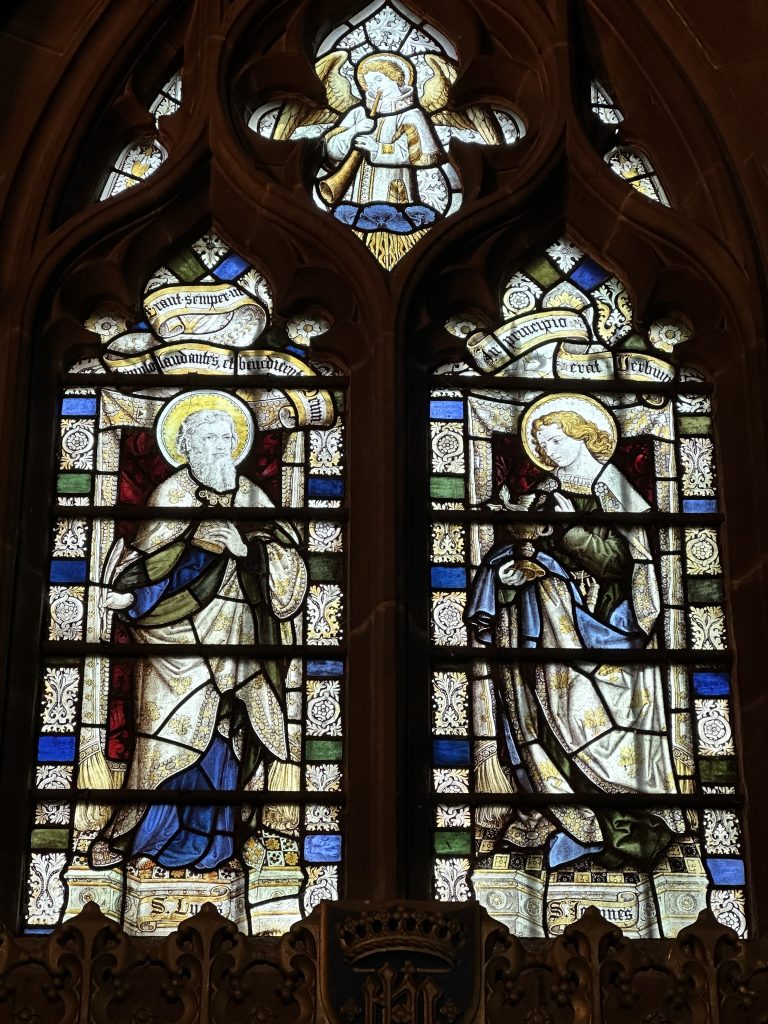 8 – East Window
In the centre light is St Michael, and above, Jesus. In the side lights are the apostles, Peter and Paul; the Prophets, Moses and David; the Martyrs, Stephen and Alban. To complete the Te Deum Laudamus, and representing the Holy Church, are two saints with local connections, St. Anselm and St. Werburgh.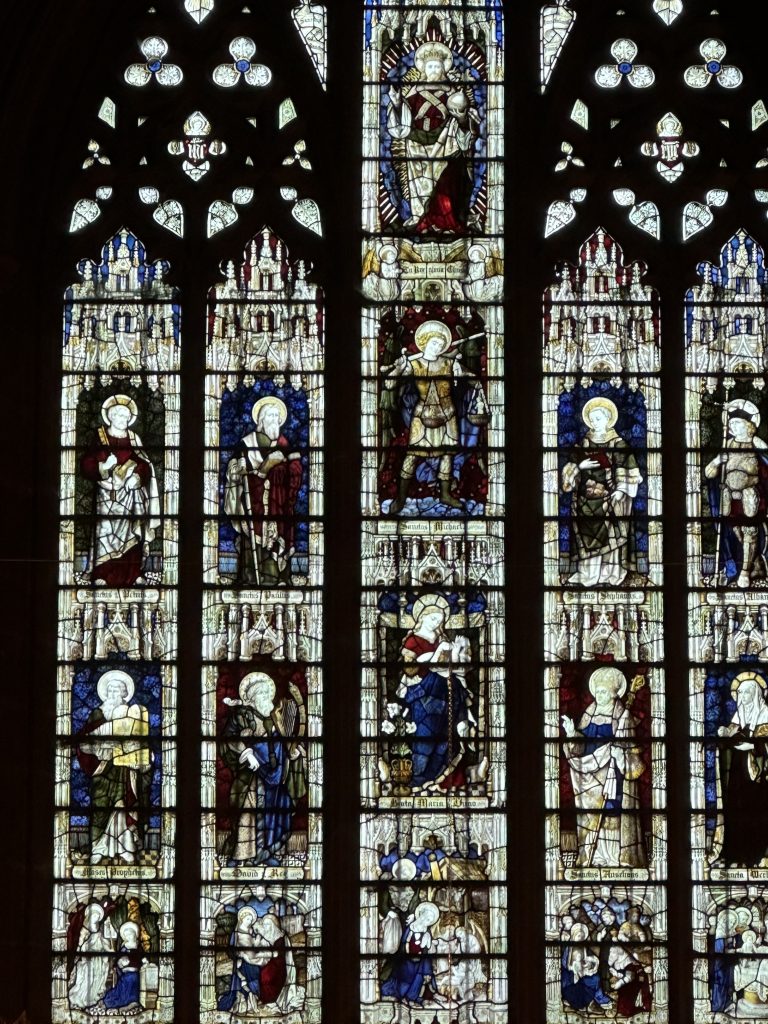 Eagle Lectern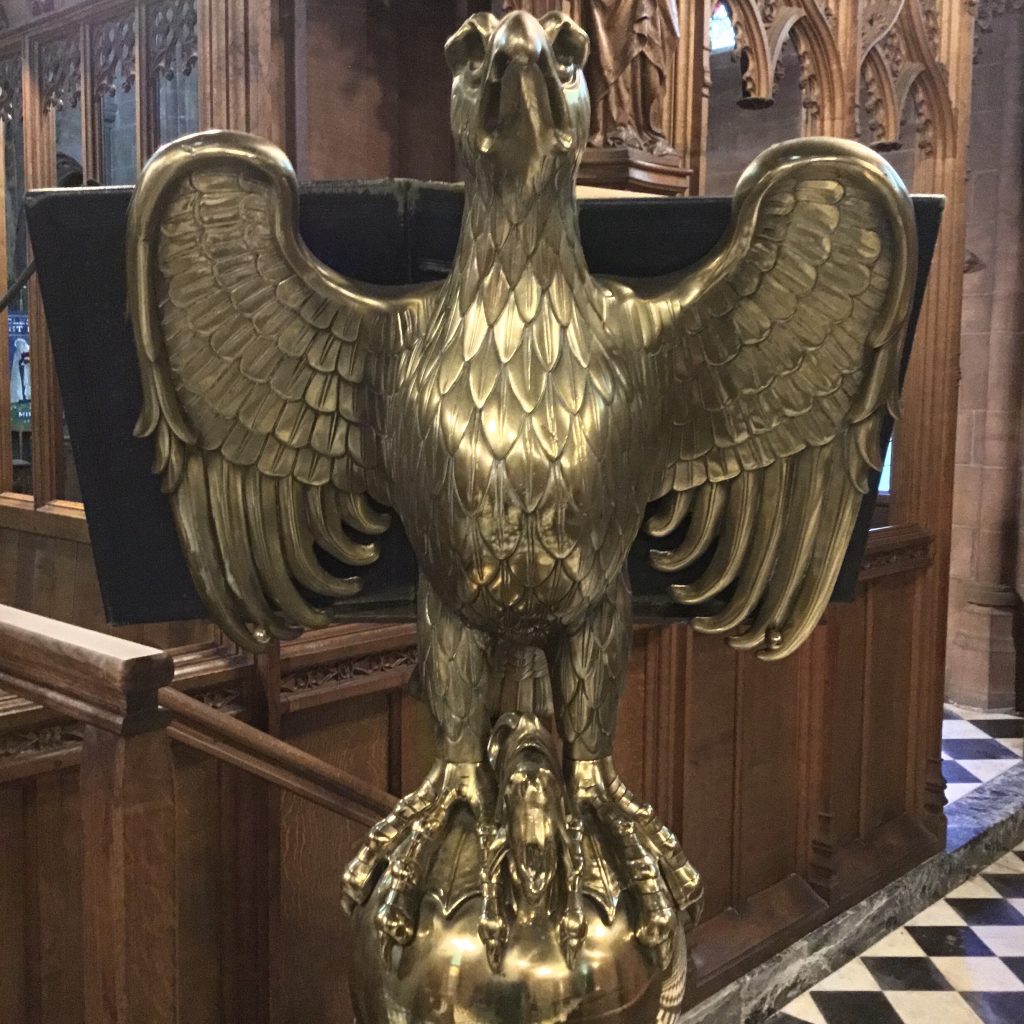 Sedilia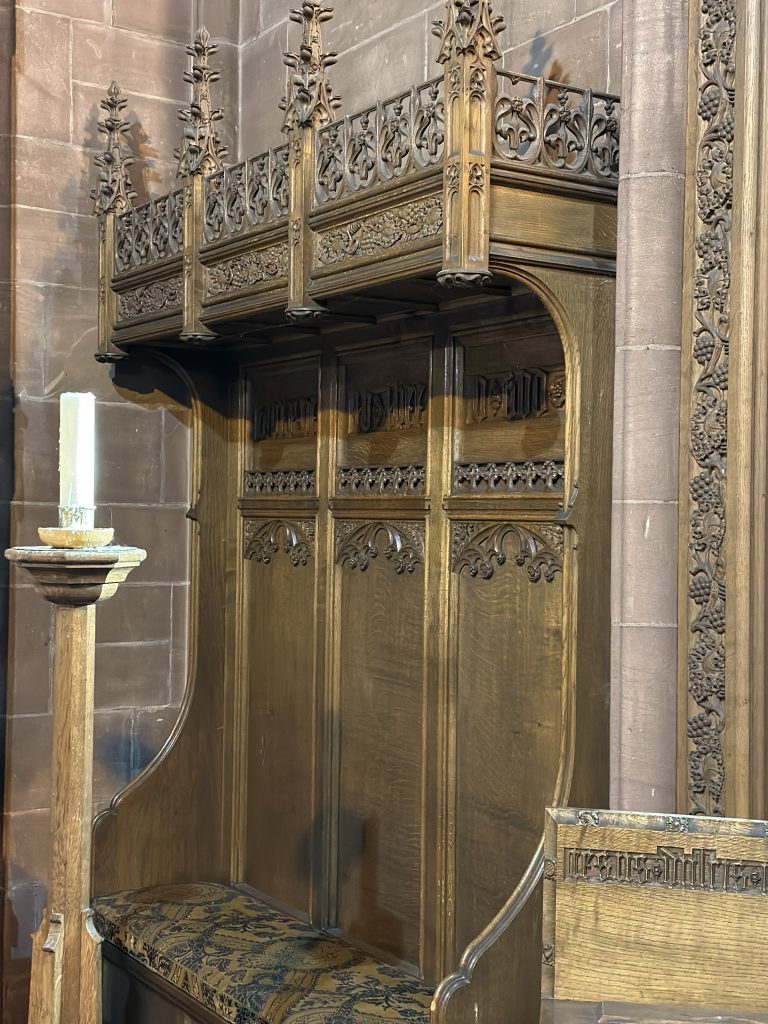 Altar and Reredos
The superbly carved and gilded reredos, by Farmer and Brindley, depicts the crucifixion and Passion, while the window above has five scenes from the life of the Virgin.
Pulpit
Both the pulpit steps and floor are of marble from the ancient quarries in Thessaly.
9 – Window (North Aisle, East Window)
This window shows St Matthew and St Mark. Above St Matthew we read "Ego Vobiscum sum omnibus diebus". (I am with you always, until the end of time) from Matthew 28:20.
Above St Mark is a Latin quote that will need further study.
10 – Window (St Cecilia and St Anne)
This window shows St Cecilia and St Anne
11 – Window (St Helena and St Joanna)
This window shows St Helena and St Joanna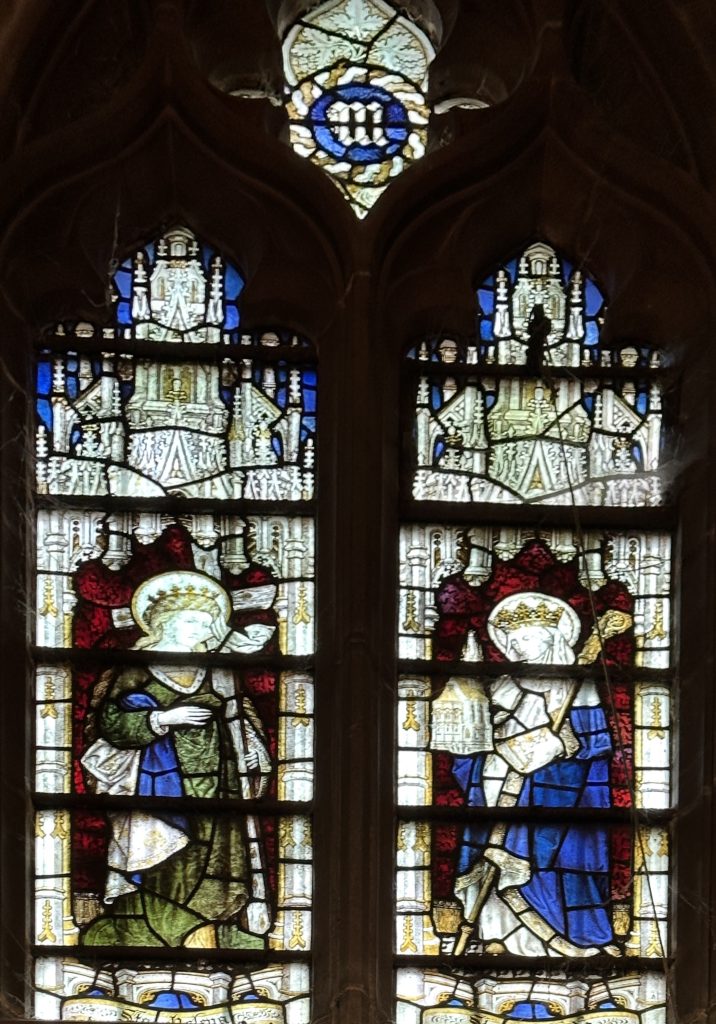 12 – Window ( St Edmund and St Edward)
This window shows Saint Edmund (King) and Saint Edward (King) on the top. Beneath St. Edmund we see an angel holding a shield with a lion and a banner which reads "Fortitudo" (Strength). Beneath Saint Edward we see another angel holding a shield which reads "Patientia" (Patience)
13 – Window (St Richard of Cirencester and St Hugo of Lincoln)
This window shows "Saint Richard of Cirencester and Saint Hugo of Lincoln.
14 – Window (Joshua and Gideon)
This window shows Joshua and Gideon. Beneath Joshua, the angel holds a shield with the words "Charitas" (Charity) on. The angel beneath Gideon shows the words "Justitia" (Justice)
15 – Window (Aaron and Melchizedek)
This window shows Aaron and Melchizedek. Beneath Aaron, the angel shows the message "Fides" (fidelity). Beneath Melchizedek, the angel holds a shield with the message "Spes" ( Hope ).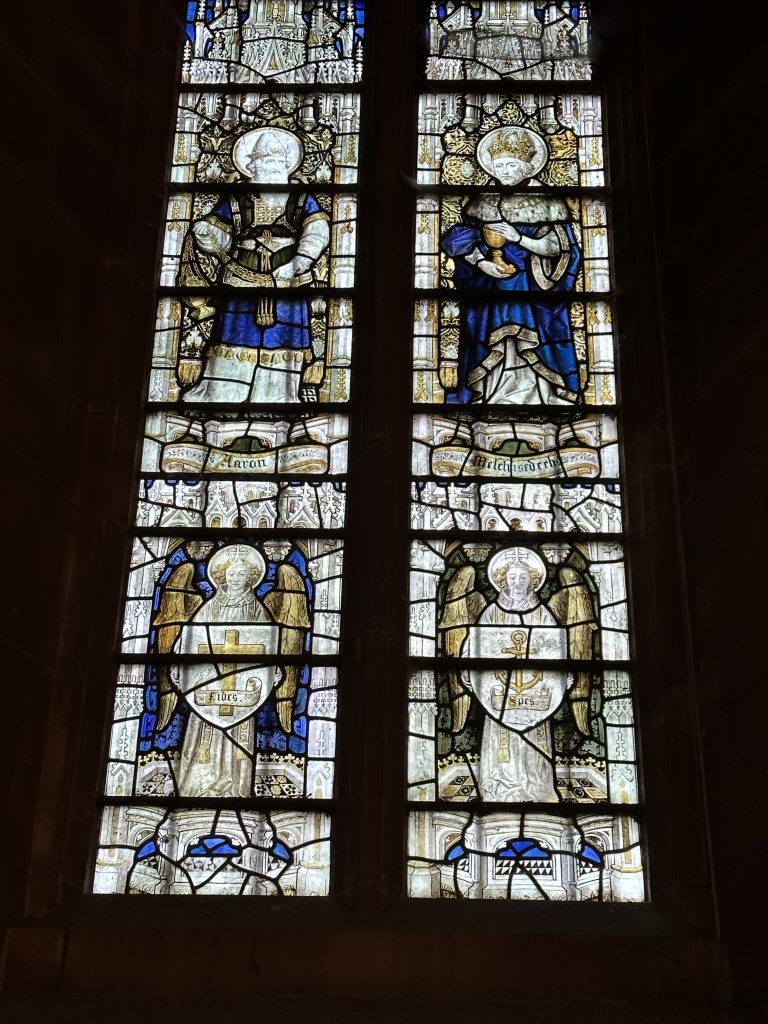 16 – North Aisle West Window (Ezekiel, Daniel, St Gregory and St Augustine)
This window shows the old Testament prophets Ezekiel and Daniel in the top, and St Gregory and St Augustine in the lower half of the window.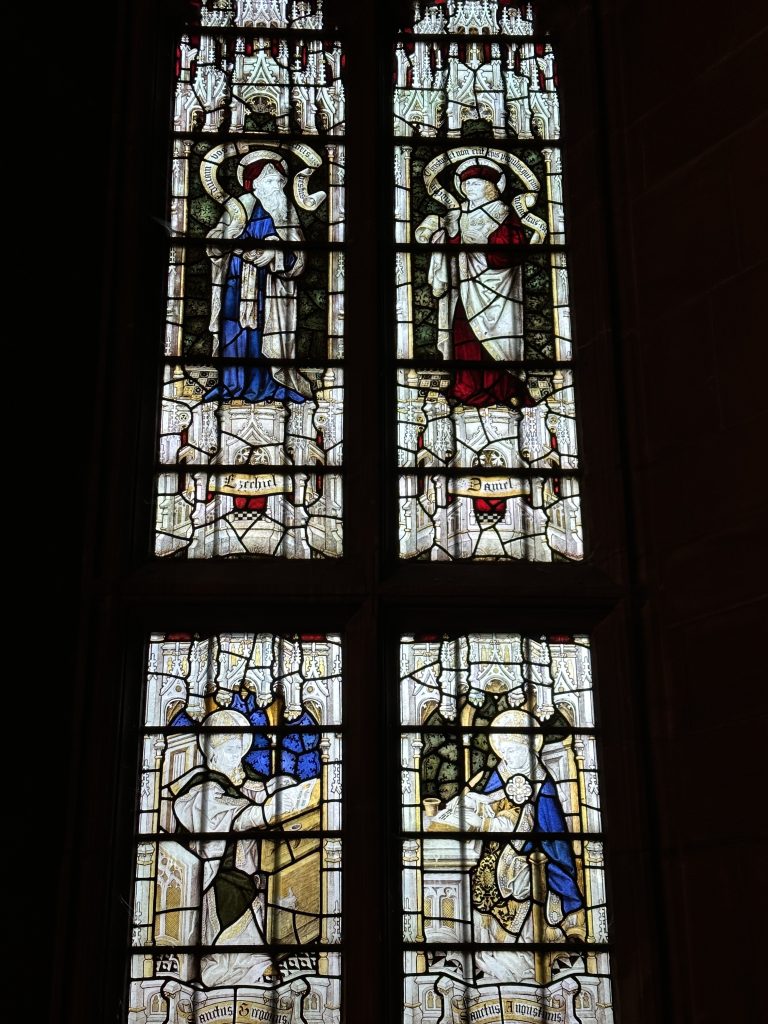 Font
The font is Thessaly marble and is surmounted by a lifting oak cover on which is carved figures of eight saints. From the symbols they are holding can you identify each of these saints? (They are the four evangelists, St Stephen, St John the Baptist, St George and St Lawrence ).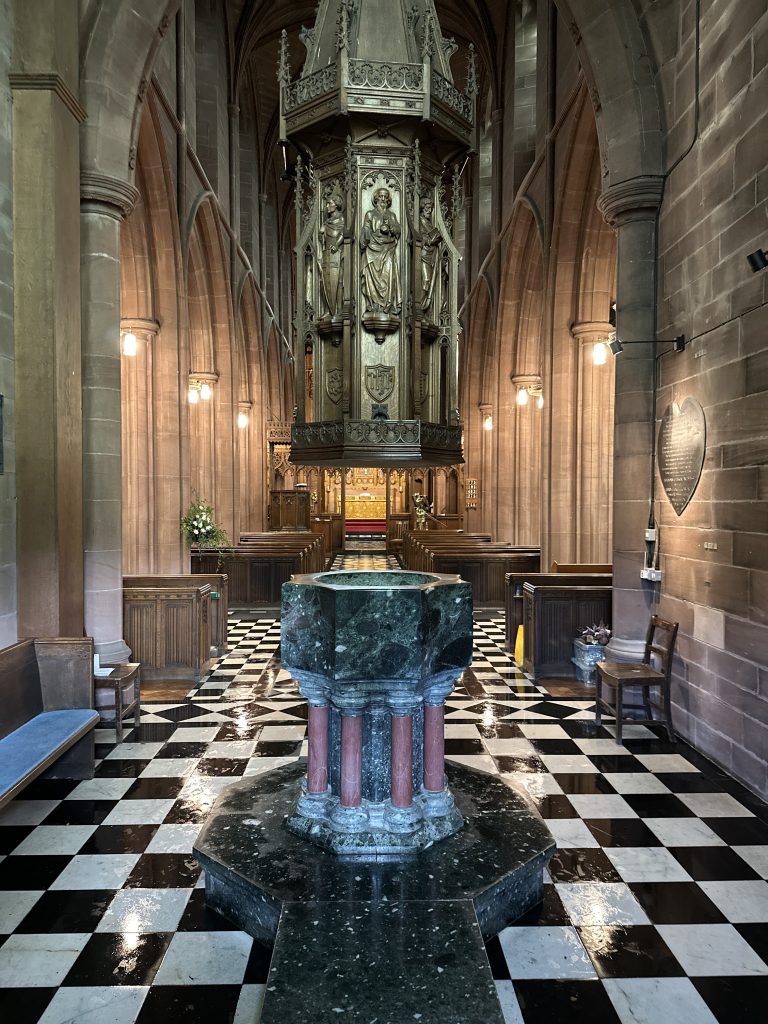 17 – West window
The West window has figures of St. Christopher and St John the Baptist. The scenes are the Baptism of Jesus and the Baptism of the Ethiopian Eunuch. The top light of the window depicts the Passover lamb.
Clerestory Windows
The clerestory window angels display the Magnificat starting from the North Window in the Baptistry ( Clerestory Window 1 ) then continuing clockwise around the clerestory, to finish in the South Window in the Baptistry (Clerestory Window 14).
1 "Magnificat anima mea Dominum"
[My soul proclaims the greatness of the Lord ]
This window consists of two lights with 3 coats of arms.
Top: 'Bend or'. Grosvenor ancient, refused by the Court of Chivalry following the famous case Scrope v Grosvenor, 1388/9, in favour of 'garb or'.
Bottom left (2 red chevrons and a cross): Mobberley.
Bottom right (deer with golden antlers): Downes.
2 "et exsultavit spiritus meus"
[And my spirit rejoices… ]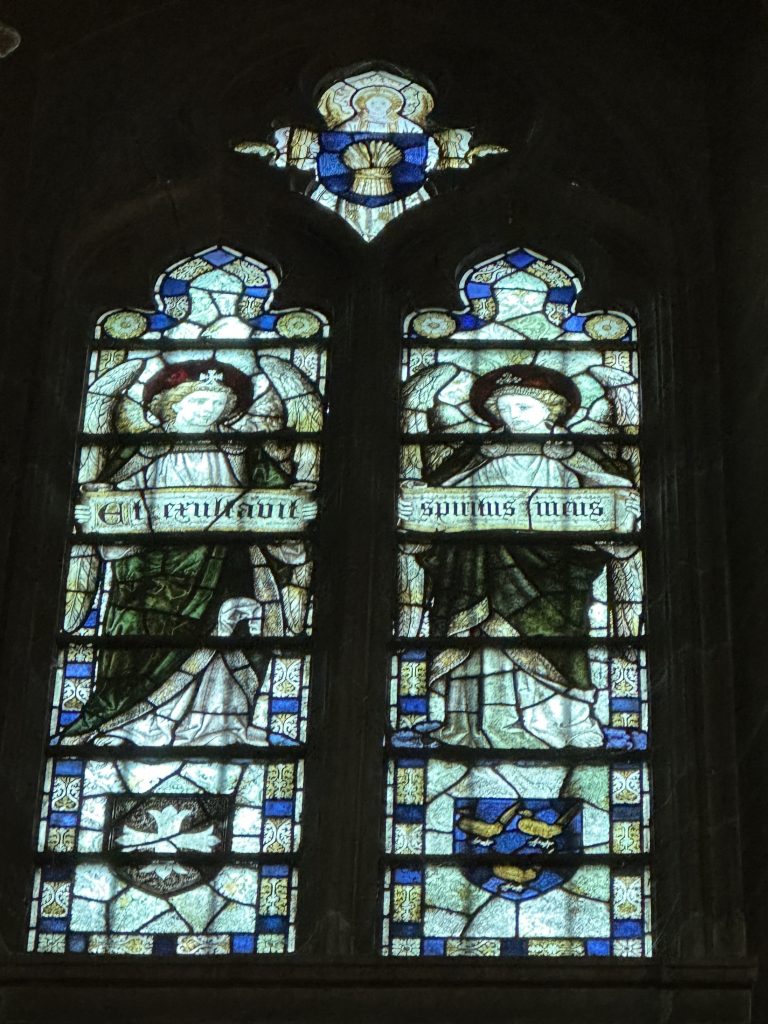 This window contains 3 coats of arms:
Top (Golden Wheatsheaf): Grosvenor modern, Azure, a garb or.
Bottom Left (Silver Cross) : Pulford.
Bottom Right (3 Golden Pheasants): Pheasant of Staffordshire. ( Why the silver feet? Perhaps an error)
3 "..in Deo salvatore meo. Quia respexit .."
[.. in God my Saviour. For he has looked…]
Top – ( black and white cross) : Eton.
Bottom Left – (3 tree stumps eradicated and raguley argent.) : Stockton
Bottom Right – (3 golden wheatsheafs on a blue diagonal ): Fitton
4 "humilitatem ancillae suae";
[ … with favour on his lowly servant.]
Top: Norris of Speke.
Bottom Left: ( a bend between 3 black circles ): Cotton.
Bottom Right: (Silver Eagle) : Cotton of Ridware.
5 "Ecce enim ex hoc beatam me dicent"
[From this day forth, I will be called blessed…]
Top (3 vertical silver swords with golden hilts) : Waltheof of Staffordshire.
Bottom Left (5 black eagles) : Basing
Bottom Right (3 red falcons): Falconer.
6 – "omnes generationes. Quia fecit"
[.. by all generations, for the Almighty ..]
Top: (3 golden owls) : Thurcaston.
Bottom Left – (2 silver bars) : Venables of Kinderton.
Bottom Right – (8 bars of gold and blue) : Sir Conan de Aske? Fitzalan?
7 – "mihi magna, qui potens est"
[..has done great things for me, ]
Top: (silver lion and fleur de lys) : Poole of the Wirral
Bottom Left – (two black diagonal lines between 3 black martlets on silver background) : Bradshaw of Haw.
Bottom Right – (engrailed red cross on gold background, rose (or other symbol top left) : Brooke
8 – "et sanctum nomen eius, Et misericordia eius"
[.. and Holy is his Name. He has mercy on those…]
Top ( 2 helmets, and a golden wheatsheaf) : Cholmondeley.
Bottom Left (Lion) : Mostyn
Bottom Right (3 wolves heads): Myddelton of Chirk.
9 – "in progenies et progenies timentibus eum"
[… who fear him, in every generation.]
Top (a chevron between 3 mullets): Davies
Bottom Left (Silver lion with small crosses) : Warre
Bottom Right : Vernon of Haslington
10 "Fecit potentiam in brachio suo"
[He has shown the strength of his arm, ]
Top (Red lion between 3 pheons) : Egerton
Bottom Left (2 silver bars, 3 downward pointing silver arrows): Done
Bottom Right (3 fleur de lys) : Smyth of Old Hough, Warmingham.
11 dispersit superbos mente cordis sui;
[he has scattered the proud in their conceit.]
Top ( 6 horizontal rows of silver and blue, 5 red vertical bars ): Grey (and Egerton?)
Bottom Left (Silver lion surrounded by 6 silver fleur de lys): Holland
Bottom Right : 2 mullets (stars) and 2 cross molines. ( Ashton and Banester ?)
12 "deposuit potentes de sede, et exaltavit humiles;"
[He has cast down the mighty from their thrones: and has lifted up the lowly.]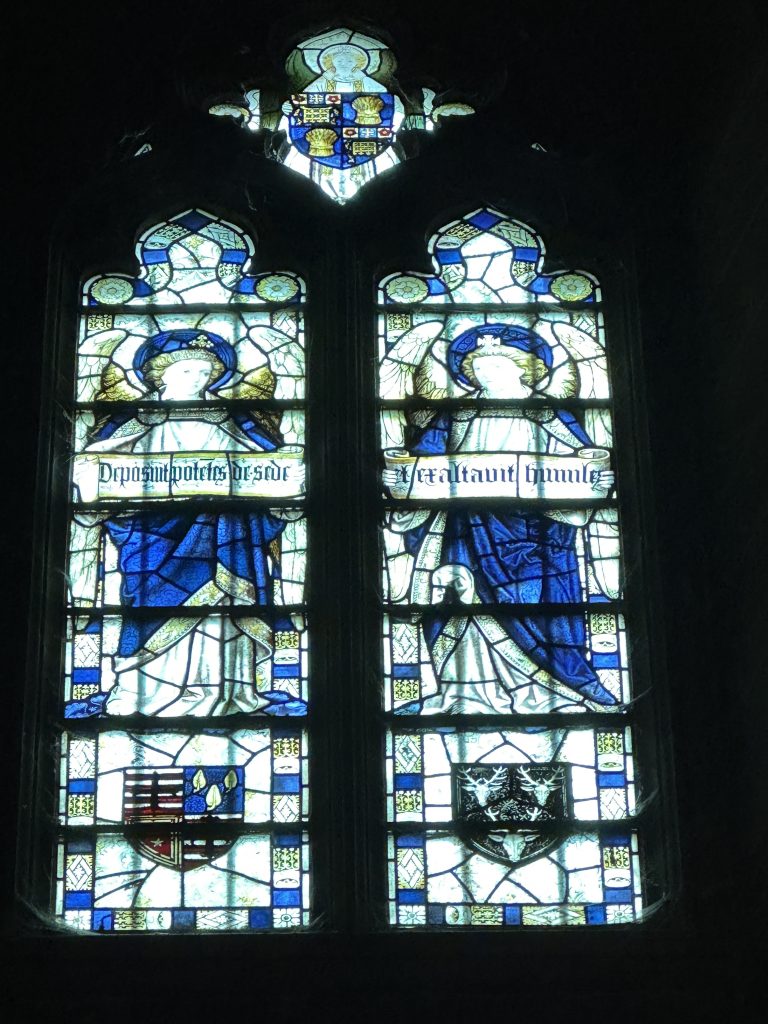 Top : Grosvenor, duke of Westminster
Bottom Left. This is made up of 3 families.:
8 gold and red rows over a black cross : Gower (earl of Sutherland)
3 gold laurel leaves: Leveson (earl of Sutherland)
3 stars within a gold border: Sutherland (earl of Sutherland)
Bottom Right (3 silver stags heads) : Cavendish
13 "esurientes implevit boniset"
[He has filled the hungry with good things,]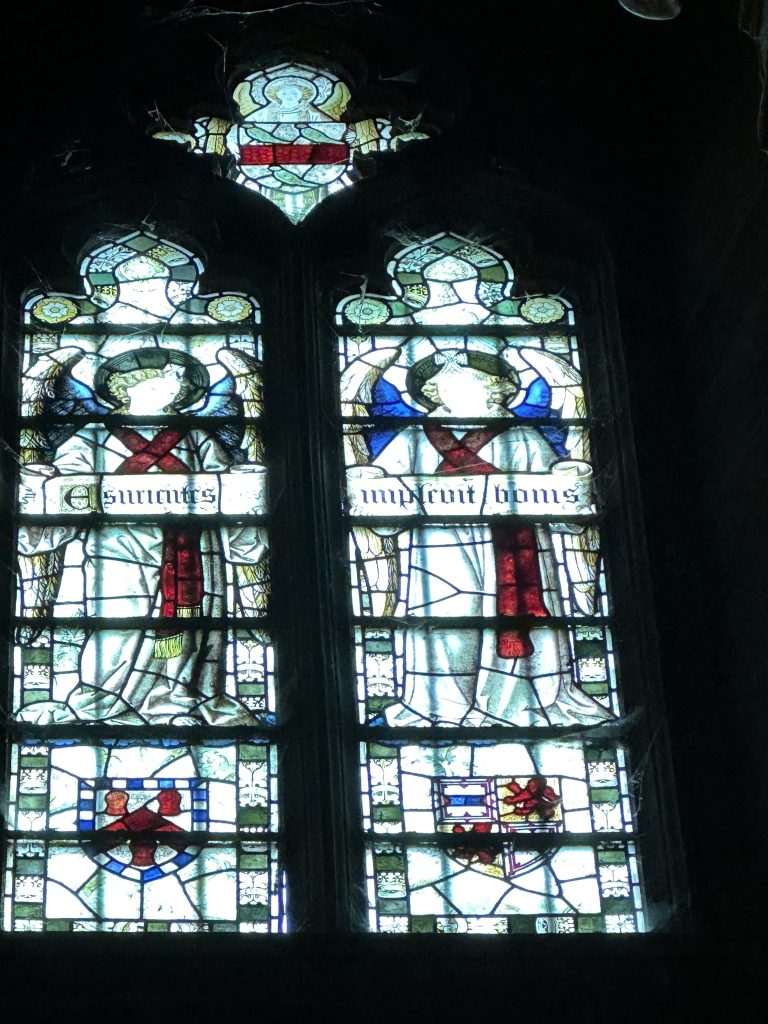 Top ( Red bar in between 3 green collared birds) : Lumley, earl of Scarborough.
Bottom Left : Sheffield of Normanby, Lincolshire.
Bottom Right : Charteris and Douglas earls of Wemyss and March.
14 "et divites dimisit inanes".
[…and the rich he has sent away empty].
This windows consists of 2 lights with 3 coats of arms.
Top: this is a composite of the Ormonde, Carrick and FitzGerald family coats of arms.
Bottom Left (3 stags heads): Cavendish family.
Bottom Right (3 stags antlers, 3 lions, with shield): Teck family?
Alternative theory
Top : Butler, viscount Galmoye. (The quarters represent the earls Butler, Butler, ? and ?)
Bottom Right : Boyle of Kelburn, Ayr.
Vestry Windows